2023 January 4, the 17th anniversary of the death of Dr. Saeed Kazemi Ashtiani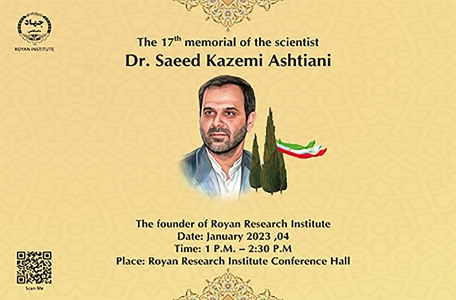 The 17th-anniversary ceremony of the death of Dr. Saeed Kazemi Ashtiani, the founder of Royan Research Institute, will be held.
According to the public relations report of Royan Research Institute, on the occasion of the 17th anniversary of the death of Dr. Saeed Kazemi Ashtiani, the founder of Royan Research Institute, a commemorative ceremony will be held on January 4th at 1:00 PM in the conference hall of Royan Research Institute.
Seventeen years ago, on the evening of Wednesday, January 4, 2006, Dr. Saeed Kazemi Ashtiani, head of Royan Research Institute – the pioneering scientific center for stem cell research and cloning in Iran and one of the greatest centers for producing medical research in Iran and the Middle East - died at the age of 44 due to a heart problem while he was performing an exercise test in the Baqiyatullah (AS) hospital in Tehran.
His effective steps, such as the establishment of the Royan Research Institute and providing the best infertility treatment services to society and its significant national achievements about the production, reproduction, and freezing of the first line of embryonic stem cells in the country in 2002 and extensive research about cell therapy for various diseases such as corneal abrasion and heart attack complications, the establishment of the first private cord blood bank in 2003 and the consideration of producing the first cloned animals in the Middle East – which had fruitful a few months after Dr. Kazemi's death – caused that his sudden sad loss was touched the public regret, In addition to his colleagues and the scientific and research community of this field.
He had a specialized doctorate in embryology from Tarbiat Modares University, which after the establishment of Royan Research Institute, played a significant role in the growth and development of reproductive medicine, stem cell technology, and cloning in Iran.
Abundant knowledge, rich intelligence, and high management ability on the one hand, and his commitment, sincerity, and constant faith in God, on the other hand, caused Dr. Kazemi Ashtiani to achieve remarkable success in two areas of his management during his short life, such as the development of advanced methods of infertility treatment, production and Proliferation and freezing of embryonic stem cells and replication (cloning) of animals.
The Grand Leader of the Islamic Revolution discussed the personality and performance of Dr. Kazemi Ashtiani in his statements.
Ayatollah Khamenei said: « If I want to introduce this educated person in a sentence, it is better to say that: "His personality included a combination of science, faith, and effort." He was not only a serious and diligent person in the advancement of science but also a very virtuous and faithful person; that were the main elements of his collection and his works; In my opinion, the late Kazemi sacrificed his life and health for the advancement of science. Therefore, so Royan is very precious and Valuable to us».
The full text of these statements, memories, and Dr. Kazemi Ashtiani's music video with the name Dr. Kazemi Ashtiani; honorable scientist of the Revolution Of Iran" can be accessed from the
Khamenei.ir
website.
Among his services, we can mention the development of research in the field of fertility and infertility, the production, reproduction, and freezing of embryonic stem cells, taking advantage of the treatment of many incurable diseases, the implementation of the first cloning project Animals in the Middle East, which arrived to the conclusion after the death of him, with the birth of the first cloned lambs in the country in August and October of the following year, started and held six editions of the Royan International Festival and held two editions of the Asian Festival of Family Health.
Other successes achieved by Dr. Kazemi and his team in Iran include:
• Birth of the first IVF baby in Iran (1992)
• Birth of the second child resulting from ICSI in Iran (1994)
• Iran's second success in testicular biopsy to treat male infertility (1998)
• Birth of the first baby from microinjection (1998)
• Birth of the first child resulting from PGD in Iran (2003)
• The production of the first type of embryonic stem cells in Iran (2003), which placed Iran among the ten countries that own this technology.
• Establishment of the first cord blood bank in Iran to use cord blood stem cells in family cell therapy.
• The formation of the cloning research group regarding Iran's first cloned sheep in 2004, unfortunately, Dr. Kazemi did not manage to see the birth of this creature in 2005.
Kazemi's colleagues and researchers of Royan Jihad University Research Institute renew their covenant with the living ideals of Dr. Saeed Kazemi Ashtiani in this ceremony. He will always be remembered.
Royan Institute Activities