The 4th International Cancer Symposium from Bench to Bedside will be held at Royan Institute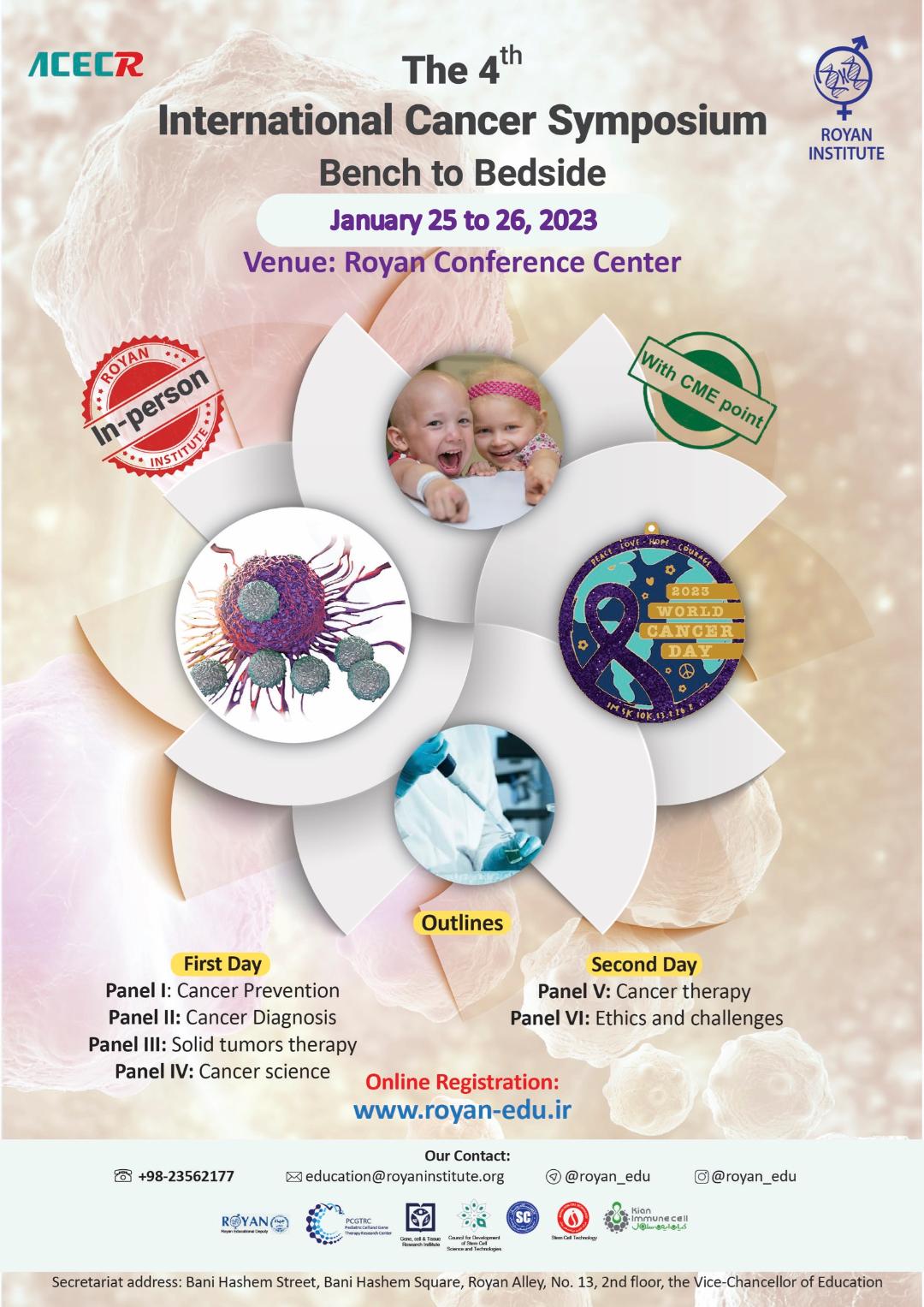 International Cancer Symposium from the
Bench
to Bedside of Royan Institute on
the subject

of approaches to cancer prevention, cancer diagnosis, and cancer treatment, for Iranian and foreign students/university professors/ doctors and specialists with related fields and with the lectures of prominent national and international professors in person in the conference hall of Royan Institute, will be held on 5th and 6th of February this year.
Cancer statistics in Iran are estimated to be lower than the global average. Unfortunately, this is a growing trend in Iran, therefore, it is necessary to apply the main components of cancer control, including prevention, early diagnosis, and the use of targeted methods in treatment to prevent many cancers to reduce the mortality rate due to this disease.
The headlines of the International Symposium on Cancer from the
Bench
to Bedside of Royan Institute are:
Cancer Prevention

Cancer Diagnosis

Cancer Biology

Cancer Treatment

Ethics and challenges
This international symposium, with the support of the experience and expertise of professors and experts in this field, and to raise awareness about the fields of cancer diagnosis and treatment, can be effective and help researchers and those interested in this field to conduct efficient research to fight cancer. To register and receive additional information, those interested can refer to the website of the Royan Educational Deputy (specific to the mentioned symposium and workshops) at
https://royan-edu.ir
or call 021-23562177.
Retraining points:
8 points: general surgeon, Ph.D. in immunology, pediatric blood and cancer, internist, adolescent blood and cancer
5.75 points: Radio-oncology, radiation therapy, doctor of pharmacy, clinical pharmacy, master of immunology,
Master of Genetics
4 points: Obstetrics and Gynecology, Ph.D. of Laboratory Sciences, Specialist of Laboratory Sciences, Ph.D. in Anatomical Sciences, Pediatric Diseases, Pediatric Specialist, Ph.D. in Developmental Biology
2.5 points: undergraduate and master and Ph.D. in nursing, general practitioners, nuclear medicine, Ph.D. in molecular medicine
Those eligible for retraining points should only register through the continuous medical education system or the link below, otherwise, they will not be awarded points.
To obtain retraining points, you must complete your registration through the website of the General Directorate of Continuous Education of the country's medical community at www.ircme.ir and refrain from registering on the website of the Royan Educational Deputy.
Scientific Secretary:
Prof. Amir Ali Hamidieh; Dr. Faezeh Shekari
Executive Secretary:
Alireza Khosravani