Students of Royan Institute Won the Prize of the Scientific Student Festival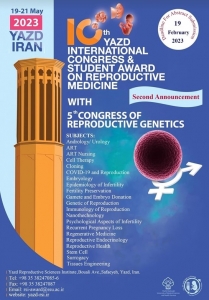 According to the public relations and international affairs report of Royan Institute, Mrs Farnaz Taj Bakhsh a joint student of Royan Institute and the University of Science and Culture

won the Reproductive Medicine Student Festival Award at the 10th International Congress and Student Festival of Reproductive Medicine and the 5th Genetics Congress, which was hosted by Yazd Research Institute of Reproductive Sciences in May 2023.
Among the selected student projects of this congress, 14 people were selected in the reproduction department and 3 people were selected in the genetics department.




Mrs. Taj Bakhsh, a PhD student in developmental animal biology, was recognized as the first person in the regenerative medicine group of this year's festival with the topic of Wharton jelly hydrogel (a new solution for making artificial human ovaries). Also, the first person of this festival in the women's group was awarded to Mrs. Samaneh Aghajanpour, a PhD student in Reproductive Biology at Royan Institute and Iran University of Medical Sciences, with the topic of molecular evaluation of the effect of scratching on endometrial samples of patients with repeated implantation failure compared to the group without scratching.




It should be noted that the first prize for the best presenter was awarded to Mrs. Maryam Momeni, with the topic of making a 3D scaffold from the extracellular matrix of the testis/gelatin using the gas foam method to investigate the process of spermatogenesis from the colleague of Royan Research Institute and a doctoral student in reproductive biology at the Iran University of Medical Sciences.




Regenerative medicine or restorative medicine is a branch of modern medical science whose purpose is to repair and restore damaged or lost tissues or organs, it encompasses a multitude of treatment techniques and approaches, including cell therapy.


Royan Institute is now one of the pioneers in the field of regenerative medicine and future medicine in the Middle East.
Royan Institute Activities